Frequently Asked Questions
Click on any question below to reveal the answer. All external links will open in a new window.
Hide
1. What is Paisley Place?
Paisley Place is an affordable rental housing project proposed to be built and operated by Gabriola Housing Society (GHS), an incorporated non-profit society and registered charity. Its aim is to provide comfortable and secure rental housing at an affordable rent (maximum 30% of before-tax household income), mainly to people with low to modest incomes. GHS plans to build 24 homes (in triplex buildings) comprising studios, 1-bedroom, 2-bedroom, and 3-bedroom dwellings. Dwelling sizes will range from 455 sq ft to 1387 sq ft., averaging 900 sq. ft. (Three-bedroom homes will have two storeys.)
2. How is this proposal being dealt with by the Islands Trust at the local level?
In January 2020, GHS applied to the LTC to rezone two properties on Paisley Place for multi-dwelling affordable housing. That process is ongoing. Below is graphic showing the approval process as presented at the December 10, 2020, Community Information Meeting.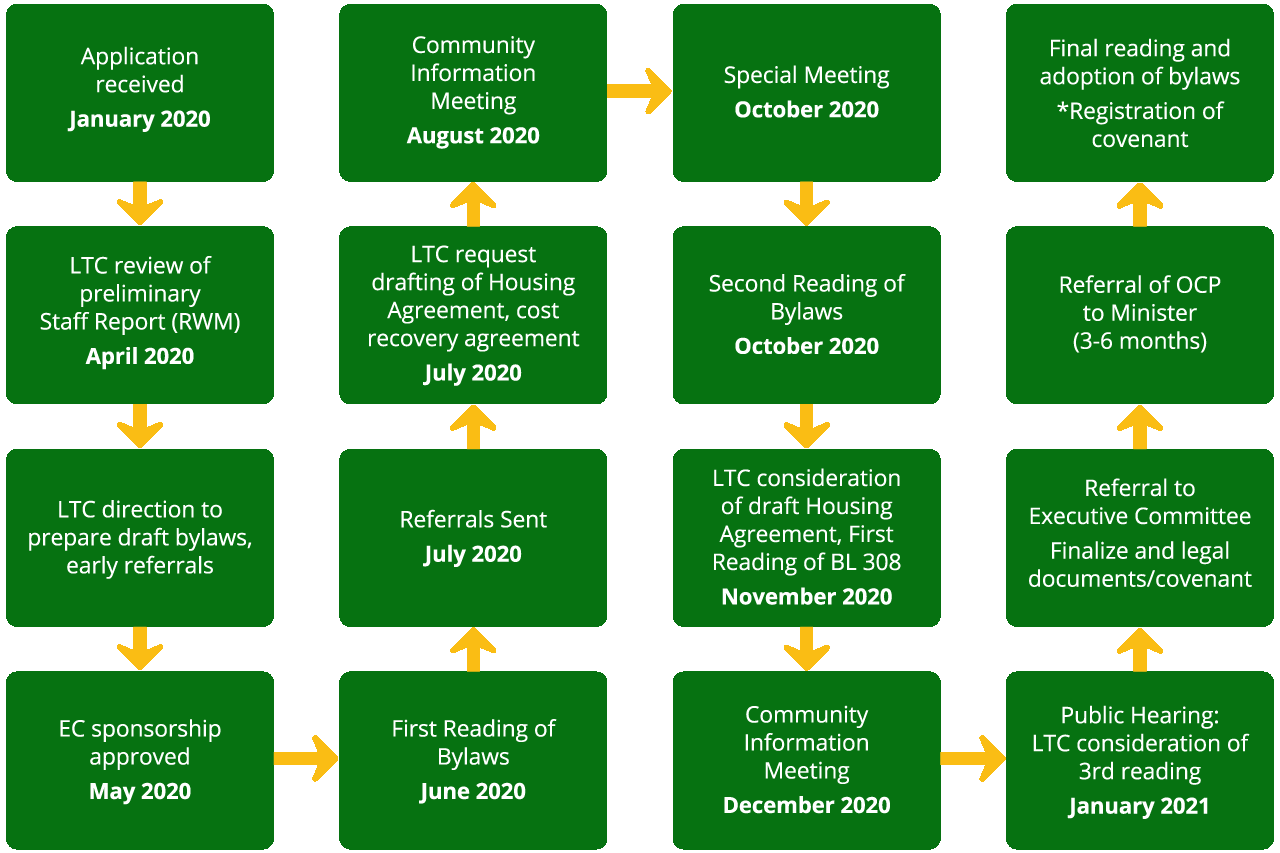 Proposed Bylaws 306 (Official Community Plan) and 307 (Land Use Bylaw): In January 2021, the LTC gave Second and Third Readings to those bylaws. IT Executive Committee approved them, and then forwarded OCP Bylaw 306 to BC Minister of Municipal Affairs Josie Osborne, who approved it in May 2021. Proposed Bylaw 308 (Housing Agreement): In May, 2022, the LTC gave Second and Third Readings to bylaw 308 (HA) and IT Executive Committee approved it on June 8, 2022 recommending to Gabriola LTC that "…before it adopts Bylaw 308 (Housing Agreement) the interests of the SFN in this bylaw are confirmed".  On June 16, 2022, the LTC gave final reading to the three bylaws (306, 307, and 308) and adopted them. This decision rezoned Lots 1 and 2, north and east of Paisley Place for affordable rental housing for people with low to moderate incomes.
3. Where is Paisley Place?
Paisley Place is near the village core, close to amenities. The proposed housing will be built on Lots 1 and 2, to the north and east of Paisley Place leaving a buffer on the west side of the property and retaining the frequently used public walking trail there.
View the site plan here
.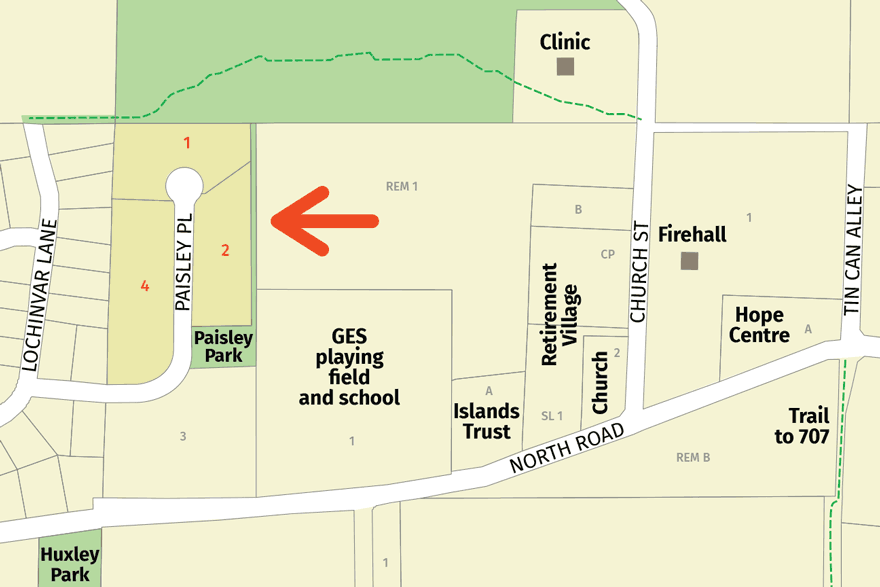 4. Why was Paisley Place chosen as the site for the housing project?
After extensive research, the Paisley Place land was one of the options that GHS considered appropriate
the site is close to services (school, clinic, shopping, public transport)
an access road is already in place
the site is adjacent to two forested parks and a public trail system
in Aug 2019, the land was donated to GHS by the owner, Emcon Services
5. Why is this affordable rental housing needed on Gabriola?
GHS believes that a strong community needs all members, not just the wealthy and physically able, to have healthy, secure, affordable homes. Multiple studies (including by the Islands Trust) over the last decade have found an acute shortage of affordable, decent, secure rental housing here (as elsewhere). Most communities are experiencing the same problem—moving elsewhere is not a solution.
6. What is affordable housing?
The Islands Trust Northern Islands Housing Needs Assessment Report (June 2018) defined it this way:
"Generally, affordable housing refers to housing units that are affordable by that section of society whose income is below the median household income.
The definition of affordable housing varies; however, Canada Mortgage and Housing Corporation (CMHC) and British Columbia define affordable housing as housing that does not cost more than 30% of a household's annual income, which includes utilities."
7. When will this housing be built and occupied?
Information updated April 4, 2022: BC Housing notified us in June 2021 that our application for funding through the 2021 Community Housing Fund (CHF) had NOT been chosen. After a debriefing meeting with BC Housing, we decided to continue developing the design and construction plans for the project and re-apply as a "shovel-ready" project at the next round of the CHF program, expected in mid-2023. If GHS is chosen for that funding, we would build in 2023-24 and would expect occupancy in 2025.
8. What about water?
Water licence: As part of the provincial government's Water Licence application process, on December 3, 2020 GHS received the Hydrogeological Technical Review (3.2MB PDF). This review contains important observations and conclusions that would guide the decision re providing the Water Licence for Paisley Place. GHS received the Water Licence from the BC government on May 3, 2021.
Testing of the main well on the project site indicates that there is adequate water to meet the needs of the project. GHS has also investigated rainwater harvesting, rain gardens, and a grey water system for toilet-flushing and minimal irrigation.
Water Management Plan: GHS has submitted a Water Management Plan to the LTC for its consideration.
9. What about septic?
A Wastewater Report indicated that either a Type 2 or a Type 3 system is adequate for the site. GHS has chosen to go with a Type 3 advanced secondary treatment system.
10. Where will the money come from to build and operate the housing?
BC Housing's Community Housing Fund (provincial government)
Canada Mortgage and Housing Corporation (CMHC)
Private community donations
Grants from foundations, VanCity, etc.
11. What is the estimated construction budget?
The estimated total is approximately $7 million dollars.
12. How can Gabriolans be assured that the property will remain zoned for affordable housing?
13. What will the tenants' income levels be?
If GHS obtains funding from BC Housing's Community Housing Fund, there will be three categories of eligible incomes:
Deep Subsidy: 20% of the homes (5 of the 24 units) will be for households receiving income/disability assistance.
Rent Geared to Income: 50% of the homes (12 of the 24 units) will be for households with incomes below BC Housing's Housing Income Limit for the Nanaimo area (about $56,000 in 2021)
Affordable Market Rent: 30% of homes (7 of the 24 units) will be for households with incomes below the average Nanaimo-area rent, not open market rent (2021: about $113,000).
The number of homes of each size will be: 4 studio, 8 one-bedroom, 4 two-bedroom, and 8 three-bedroom. The average size of the homes still meets the OCP limit of 900 square feet. A specific mixture of these four sizes will be assigned to each of the three income categories.
Reference: www.bchousing.org/projects-partners/Building-BC/CHF
14. Who can live at Paisley Place?
BC Housing sets the application eligibility requirements regarding household income levels and assets. Reference: bchousing.org/projects-partners/Building-BC/CHF
Gabriola's LTC will establish a Housing Agreement with GHS that is registered on the title of the land. This document will include other terms for eligibility to apply. The current draft of the Housing Agreement is on the LTC website at islandstrust.bc.ca/island-planning/gabriola/current-applications/.
Tenants must be able to live independently (that is, there will be no on-site services provided by GHS for people with special needs).
15. Who will select the tenants?
People who meet the eligibility requirements and wish to live at Paisley Place will first apply through BC Housing (BCH).
The GHS team will interview prospective tenants and use a decision matrix to select tenants and then assign them to vacant dwellings as appropriate.
GHS will set policy around such things as pets/smoking/vehicles, etc.
16. Who will manage the operations of the project?
GHS will hire a Housing Manager, and other staff as needed.
17. How will tenant disputes be handled?
GHS will sign a BC Residential Tenancy Agreement with each household.
The GHS Housing Manager will work with tenants to resolve issues.

Gabriola Housing Society
PO Box 76
Gabriola, BC, V0R 1X0